Hi!
For the past three years I have been working on a steampunk inspired screenplay tentatively called Aether.  We have been given a green-light to shoot a proof of concept short film to convey the look of the world and help attract cast.  We could really use your help.  I know I'm new to the Empire, and so I hope that by sharing with you guys some of the exclusive conceptual artwork you'll see that I'm not just trying to capitalize on steampunk as a "trend", but as a viable artistic medium.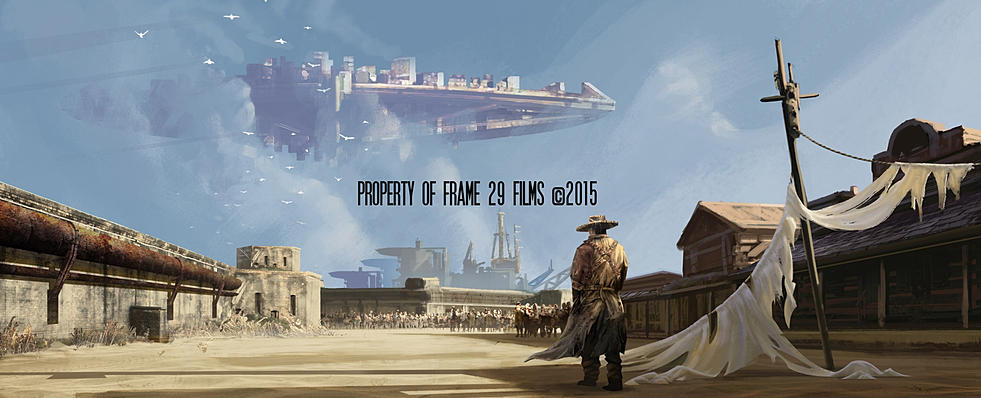 Here's the short synopsis:
Aether, the primary power source for the kingdom of Wavelinde, possesses a dark, addictive trait and a group of outcasts are brought together to defend their homeland from a power hungry political saboteur, violent assassins, and a ruthless chancellor obsessed with keeping his floating kingdom sky born in this epic steampunk fantasy. 
In our film Aether is both a fuel and in small doses a drug, but serves as the catalyst for a social revolution.  In many ways Aether is a metaphor for our modern obsession with fossil fuels causing brutal social hierarchy, wars, and serves as a source of political power.
Thus far we have an incredibly gifted creative team on board including 3 time Oscar Winner for VFX Alex Funke (Lord of the Rings, The Hobbit), Oscar Winner for Makeup Robin Mathews (Dallas Buyers Club) and Oscar nominated art director David Snyder (Blade Runner).  The aforementioned talent roster is on board with the project because they believe in the story.  What I DO NOT want to do is paint an art form endeared to me in a bad light.  So I am here to ask for your help...
We are shooting the prologue (aka pitch reel) February 9th - 13th at a civil war fort located on Dauphin Island in Alabama.  I am in need of cast to fill out the space to make it feel "real" and we ARE paying people for the days they are available.  If you're a vendor, artisan, or craftsman, we will not only pay you to be there, but we will also be featuring selected works both on cast and in a scene where the hero passes through a bazaar on his way to a fight.  
I'm open to any aesthetic ideas but here's what I created in the script based on the three "classes" of citizens.  I've also included links to the pinterest boards we've been collecting.
Wavelinde is a city that floats high above the shores of Deos.  It was originally held aloft via a natural forming pocket of Aether, but power corrupts and the reigning government has built a dome over the Aether pocket in a desperate attempt to keep their city floating.  The people of Wavelinde are the most akin to Victorian Era design, though the politicians and military do wear uniforms reminiscent of Russian Government circa 1900.  The women of Wavelinde get to have the most creative freedoms.  They're elegant, refined, in some cases conniving.
Wavelinde ideas Pinterest Board
Specter is the largest terra bound town on the island of Deos.  Aesthetically, it is a mixture of a small European town and that of the American Wild West.  The people there are at highest, middle class, and work in all forms of trade, from craftsman to farmers, to hired guns.  I don't wanna go hard wild west, what I'm looking for is costuming and gear that was at one time considered "trendy" in Wavelinde, but has now become passe.  It's a very diverse look of slightly weathered leather and canvas.
The Bruewen people are considered to be the lowest in the class structure.  They live underground in harsh conditions working as "miners" of sort.  Their gear and clothing is made up of what they can scavenge - think of it like the Wasteland Warriors from Mad Max, but without all the modern bits.  They typically cover their faces/heads as due to their exposure to Aether they have some slightly beastial features.
I know it might be alot to ask, but as I mentioned I wanted to come here first.  I wanted to at least reach out to the community for an opportunity to help us shape the cinematic landscape and potentially (and finally) represent the steampunk art form in the strongest way possible.  
If you're interested in helping us out please feel free to email me at frame29films [at] gmail [dot] com.
Thank you guys so very much for all the inspiration and I hope to see you on set soon!!!